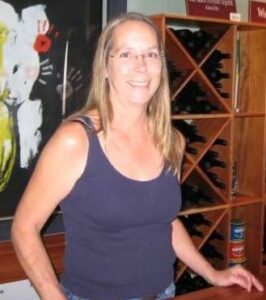 KAREN
Chief Financial Officer, and Prime Minister to President Rick. Karen's decades spent toiling in the labyrinth of winery accounting, taxation and compliance are invaluable. She keeps our dollars and sense (yes, sense) straight while endeavoring to keep good ship Amphora on course, and gladly pinch-hits wherever needed. You didn't hear it from us, but we hear Karen is VERY bullish on Amphora Rose and Vermentino, and rates them as a "Buy!"

BRIDGET
Rick's better "two-thirds" finds respite from her elementary school classroom by entertaining Amphora's tasting room visitors every weekend. She loves Amphora Chardonnay almost as much as Karen, but will settle for our Zinfandel in a pinch. Bridget's delicious desserts are a mainstay of our Wine Club parties. And NO, you can't have the recipe for her Dos Palos Okie Chocolate Cake! In the pursuit of elusive terroir, Bridget willingly travels to France and Italy for "research".
JIM
Jim's first full harvest in Dry Creek Valley was the infamous vintage of 1989, when the remnants of a tropical storm rolled through the North Coast in early September and dropped around nine inches of rain. He spent much of the next month performing triage on watery, acidic, semi-rotten Zinfandel clusters by taste before they went into the crusher.  Despite this romantic introduction to the wine industry Jim has persisted in his folly, and now serves as Amphora's wine club manager and production assistant.

RICK
Just in case you've been toppled unconscious over your keyboard and haven't noticed by now, Rick is the owner, winemaker, and president of Amphora Winery. He started it in 1997 with less cash than it now takes to have dinner in Healdsburg, and it's his baby through and through. Do not ask about his "favorite" wine, as he loves them equally—or they wouldn't sport the Amphora label! You can get the full story under the "About Us" section, but what they won't tell you there is that Rick plays a mean bass guitar, and has an inordinate fondness for foie gras.